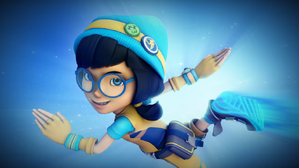 Ying is one of the main characters in BoBoiBoy Galaxy.
Abilities
Edit
Slow-Mo Speed (Kuasa Slow-Mo)
Running Speed (Larian Laju)
These is an ability as she uses while driving her vehicle:
Accelerated Dash (Pecutan Laju)
Physical Appearance
Edit
BoBoiBoy GalaxyEdit
She wears a yellow and orange shirt with horizontal light blue and white stripes on the two long sleeves, dark blue-colored jeans, blue and yellow watch, a pair of white socks, yellow and orange shoes and a yellow and light blue hat with a domo badge. Furthermore, she has a pair of blue, round glasses.
Personality
Edit
Ying is kind to all of her friends. Aside from that, she is a fast-talker and a shy girl. She is also sensitive.
Yaya said she is the only one who could beat the creator of the Papa Zola No.5 video game, proving she's an excellent gamer.
She is probably Chinese because she could speak Mandarin words like "謝謝 (Xièxiè)" which means "Thank you".
Her face is probably inspired from one of the director of the series.